It isn't even officially fall yet but stores and TV networks don't seem to care much because they're more than ready to roll out the holiday season.
As you walk down store aisles, you can already smell the scent of Christmas trees in the air and purchase Christmas decorations. Similarly, when you flip to The Hallmark Channel, you're already seeing commercials for their holiday movie lineup.
Is it premature? Of course. Christmas in September is always always too early – and don't let anyone tell your otherwise.
Heck, just yesterday Freeform debuted their 13 Nights of Halloween lineup and while it's already September and pumpkin spice season, even that felt a bit rushed.
Still, the lineup is out so those early birds can start pre-planning viewing schedules and getting into the holiday spirit as early as October.
And yes, the first Christmas movie airs BEFORE Halloween.
See the full lineup below:
Marry Me At Christmas (October 28)
Christmas Festival of Ice (November 4)
Christmas in the Air (November 5)
The Sweetest Christmas (November 11)
Miss Christmas (November 12)
Coming Home for Christmas (November 18)
Enchanted Christmas (November 19)
Break for Hallmark's 5 Night Thanksgiving Event, hosted by Full House alum and Fuller House star Candace Cameron Bure:
Secretly Santa (November 22)
The Mistletoe Inn (November 23)
Finding Santa (November 24)
The Christmas Train (November 25)
Switched for Christmas (November 26)
Christmas in Evergreen (December 2)
Reindeer Lodge (December 3)
The Christmas Shop (December 9)
Encore Christmas (December 10)
Christmas Shuttle (December 16)
Father Christmas (December 17)
Baby It's Cold Outside (December 23)
When Calls the Heart Christmas (December 25)
New Year's Eve Gala (December 30)
And if you need MORE, there's always Hallmark's Movies & Mysteries's "The Most Wonderful Movies of Christmas" lineup.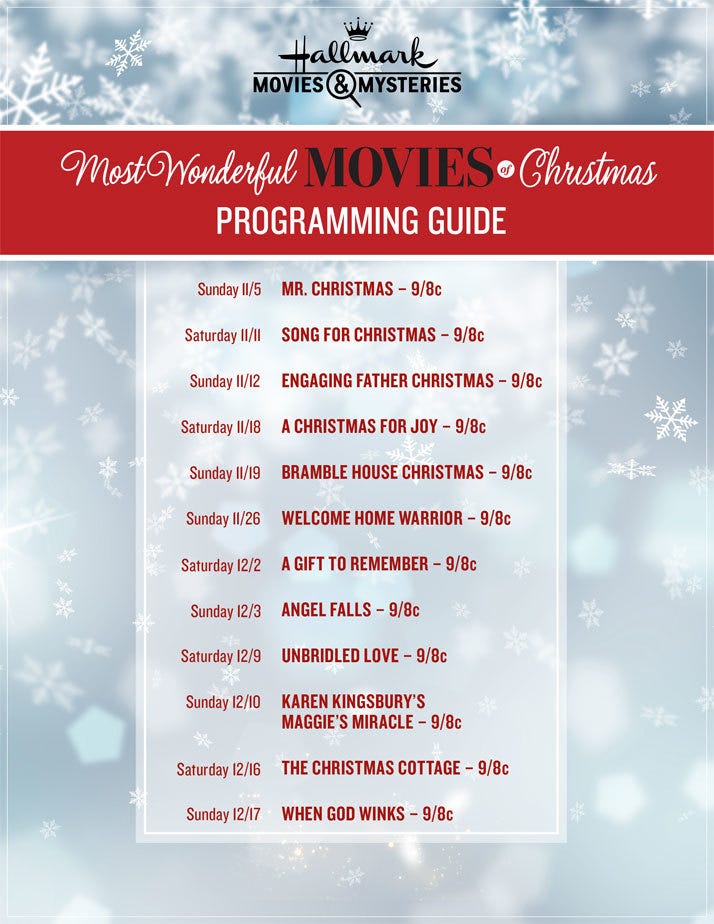 Personally, that seems like more than enough holiday movies to keep you busy during the blistering cold winter break!
Enjoy.