(Photo by Nicholas Hunt/Getty Images for Huffington Post)
Kylie Jenner has never confirmed the pregnancy rumors, but she isn't doing much to dispel them either.
Last night, the makeup mogul posted a picture on her Instagram but it wasn't her blonde locks or plump lips that were drawing the attention – it was her OVERSIZED baggy men's shirt.
Kylie is always wearing skimpy, tight and revealing clothing so either she's deliberately trying to stir the pot and keep these rumors up for as long as she can or she's really disguising the pregnancy evidence until she's ready to talk about it.
Even more interesting is her choice of color. The shirt she's wearing is blue and so is the heart next to the caption, "Sasha's shirt." Who is Sasha?
While original reports said Kylie and boyfriend Travis Scott were expecting a girl, this isn't the first time Kylie has hinted at a baby boy.
Snapchats of her two LipKit phone covers asked fans to choose between baby pink and baby blue. "I'm thinking blue," she wrote.
Sister Khloe Kardashian, who is also rumored to be pregnant, was featured in a few of her snaps.
Both ladies are seen wearing matching hoodies so maybe they were preparing for a dual pregnancy announcement photoshoot?
That would be in Kris Jenner's style.
I mean, why else do you think they are keeping so "mum" on their pregnancies?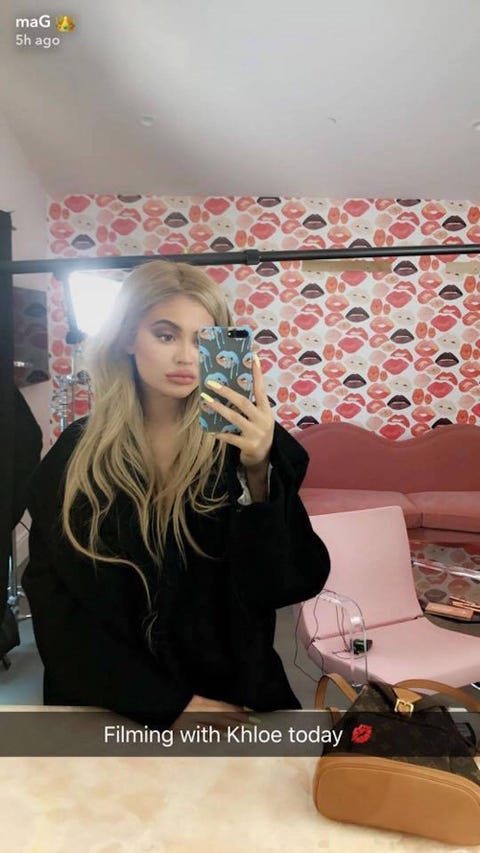 Lizzy Buczak
Lizzy's passions have always included music, pop culture and Britney Spears… not necessarily in that order. Becoming a web producer for B96 is like a...
More from
Lizzy Buczak
Comments
More From Chicago's B96 - 96.3 FM